Why Study the Microbiome?
The Microbiome has a growing importance in general health, and even more significantly, there is a growing understanding regarding the impact that an individual's microbiome has on contributing to the cause of disease, influencing disease severity, and affecting a person's response to medication and treatment. For example, it is now known that an individual's microbiome affects their ability to manage their weight, is implicated in the development of arthritis, and has a role in various neuropsychiatric illnesses such as autism, schizophrenia, OCD, ADHD, and chronic fatigue syndrome. Furthermore, by comparing patients with the same disease, it has been shown that an individual's microbiome affects the disease severity of autoimmune disorders, asthma, and infections. Perhaps even more interesting and more relevant is that an individual's microbiome affects their response to medication including vaccination, through effects on metabolism, efficacy, and toxicity.
What is the Microbiome?
The microbiome consists of all microorganisms, be they commensal, symbiotic or pathogenic, found within or on multicellular organisms. As scientists continue to examine the differences in the microbiome using the ever-growing arsenal of formidable molecular techniques, the definition of the biospecimen cohort used for such studies is gaining ever more significance.
While it has been understood on a certain level that we are an organism composed of many organisms, the effect that these microorganisms have on our health came into the modern age in the last 50 years. Interestingly in 2001, Joshua Lederberg first coined the term, microbiome. But prior to that in 1986, a little-known study by Hegstrand and Hine(1) predates its first use when they demonstrated a link between the gut microbiome and brain function.
In the last ten years, since the founding of the Human Microbiome Project, our knowledge and understanding of the human microbiome and its role in health and disease has greatly expanded, as has the technology to collect and process biospecimens for analysis. However, while our understanding has grown, we still have a lot to learn. Thus, additional, well designed and executed studies are needed.
Microbiome Collection Parameters
Donor Criteria
As the study of the microbiome and its effect on human health has blossomed, the significance of specimen collection parameters has also grown.
One of the most important factors is to clearly set the donor inclusion and exclusion criteria, ensuring that the cohorts collected allow for proper segregation upon down-stream analysis. The specific donor cohort segmentations related to gender, age, and race need to be defined prior to collection. Specific general health standards such as smoking, body-mass-index (BMI) or dietary restrictions (e.g., donor is on a specific vegan or keto/paleo diet, or donor consumes an otherwise "abnormal" diet, such as drinks nothing but diet soda) need to be included if it is considered to be important to the study design. Also, as collections may be international, it is important to record the country or region of collection, because differences in regional diets alter the microbiome.
Dx Criteria
Segmenting the cohorts in terms of diagnosis is also extremely important. If desired, specific disease-related clinical grading or scoring can be specified, setting criteria for disease severity prior to collection. Further, collection may be include such criteria as donor within a current episode, such as with flares for certain diseases. To ensure accuracy and alignment across the cohorts, the diagnosis should be physician confirmed.
Along with diagnosis, treatment status should also be specified. Requirements may include donors need to be treatment naïve or, as this is frequently not an option, donors who have undergone a specific washout period prior to collection.
Determinations of exclusion factors also have an impact on microbiome analysis. For example, is it important to exclude donors who have taken an antibiotic within a one-month of collection? Or, is it important to exclude donors on certain types of medications, even if they are unrelated to the diagnosis defined for collection? Knowing what medications a donor is currently taking is a must and should be collected as part of the donor clinical information.
Sample Criteria
The next parameter to define is the actual sample itself. Formats most frequently collected in conjunction with microbiome studies include gut (feces), urine, nasopharyngeal swabs, oral swabs or sputum collections, skin swabs, hair collection, and earwax. Beyond the biospecimen format to be collected, it is important to state if there are certain criteria to the sample itself. For example, for gut collections, is there a requirement for fecal matter to be loose or firm, is there a cut-off if the fecal matter is too liquid or too firm? If you are using hair follicle or skin swabs, is there a specific location that should be used for all donors across every cohort? Aligning these collection standards prior to study initiation, allow consistency across the entire study population.
Frequently, there is a minimum volume required to ensure testability. Consider having a specific container to fill vs. having the collection site weigh the specimen to collect the required volume. This makes it easier to collect the correct volume at the site.
For some studies, multiple samples per donor might be required: perhaps during an active flare and another during a non-active period, or pre- and post-treatment, or even, collection four or eight weeks apart.
All these parameters should be examined, and a complete statement of work or collection protocol should be completed prior to collection in order to ensure consistency across sample collection and to decrease analysis variance.
Storage/Shipment Criteria
Collection parameters are not final until the sample arrives at the researcher's bench. Thus, it is important to set parameters around sample preservation, storage, and shipping as well.
Because collections may occur as part of a clinical visit, preservation time must be specified as part of the protocol and also tracked as part of the clinical data. Defining that samples need to be transferred to final storage temperature or shipped to researchers directly will ensure sample integrity. Alternatively, samples can be shipped and stored centrally until all samples are collected. At this point, they can be shipped directly to the researcher. Ensuring proper and consistent handling provides sample integrity.
Use of special collection devices that make collection easier or that preserve the sample upon collection is also an important consideration. Devices such as the Fisherbrand™ Commode Specimen Collection System, DNA Genotek Inc, Norgen Biotek Saliva or BD BBL Culture Swab EX Collection and transport system can aid in standardization, during collection and preservation.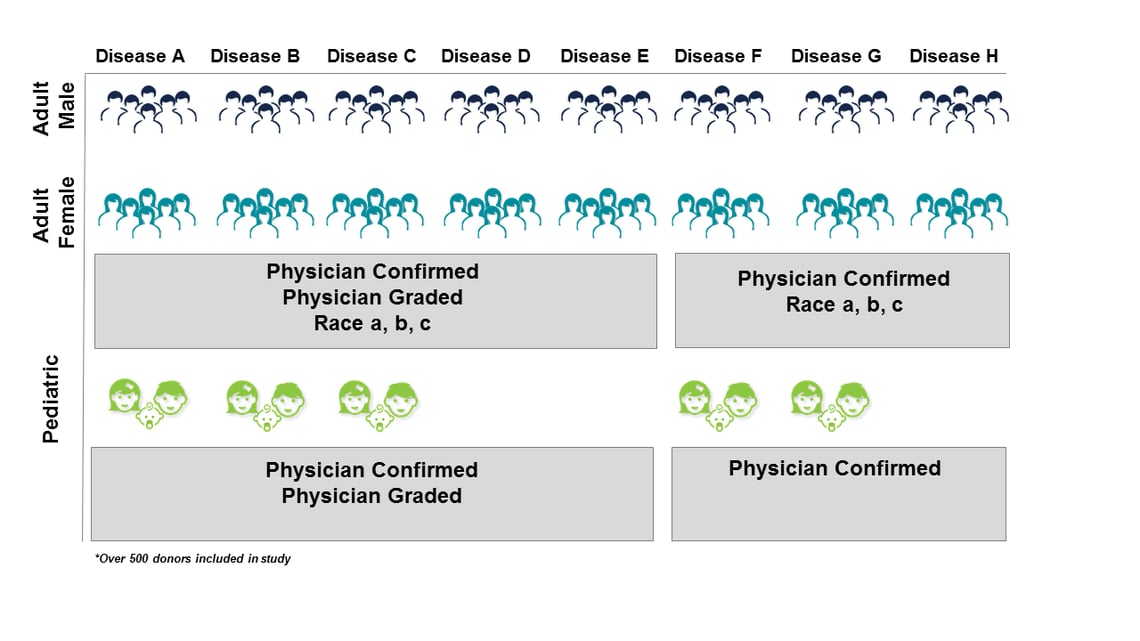 Case Study
Here, a case study is presented which integrates all the above parameters into a single collection protocol. This example includes 21 different donor cohorts related to inflammatory bowel disorders such as Crohn's, ulcerative colitis, diarrhea and others, collected from over 500 donors with cohorts representing over both male and female donors, adult and pediatric donors, and was inclusive of different race/ethnicities within each cohort.
In addition, for the diagnosis, donor disease severity was assessed using specific clinical diagnosis scoring systems as available per each indication, sample consistency was defined to ensure loose but not watery fecal matter, collection and storage devices were sent to each collection site for donor use and sample preservation as well.
Finally, samples were collected, processed to a client-specified storage container, stored at a specified temperature, and shipped directly to the researcher's lab within 24 hours. Notably, even the packaging of the specimens and shipment on dry ice was specifically designed prior to study initiation.
This large study was successfully fulfilled due to careful planning and inclusion of all necessary parameters prior to biospecimen collection.
Many of the considerations that should be taken into account when it comes to sample collection for microbiome studies have been covered. Following sample collection, it should be noted that proper sample processing and analysis needs to occur in order to ensure that there is representation of all microbes within the biospecimen.
Click here for more information regarding our collection capabilities for microbiome specific specimens including gut (feces), urine, nasopharyngeal swabs, oral swabs, sputum or bronchial lavage, skin swabs, hair collection, and earwax and others.
(1)Variations of brain histamine levels in germ-free and nephrectomized rats. Hestrand and Hine. Neurochemical Research, 1986:11(2) pp185-191