Transporters are membrane-bound proteins that facilitate the uptake or excretion of a wide range of compounds from nutrients, such as vitamins, to xenobiotic drugs like statins. Over the past decade, the regulatory agencies have identified examples of transporter-mediated drug-drug interactions (DDIs) that change drug safety and efficacy levels. In order to reduce potential DDI risks, the FDA has issued a guidance document to assist the drug development process.1 With this enhanced scrutiny of potential transporter-mediated DDIs, drug makers have also increased their research to study the potential contributions of transporters to the pharmacokinetics of their lead compounds. For example, poor brain penetration, elevated biliary or renal elimination may be indications of transporter-mediated effects limiting systemic exposure to their intended target site.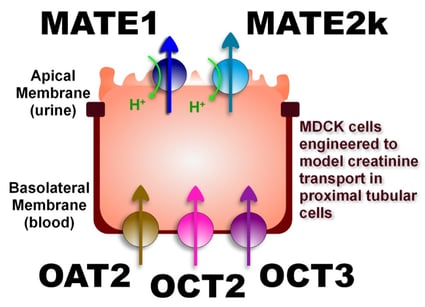 Some drug makers are now looking at endogenous biomarkers to determine the impact of perpetrator drugs on the plasma or urinary exposure as an alternative approach to assess the DDI liability of drug candidates.4,5 Example of these endogenous biomarkers include coproporphyrins and creatinine. Elevated urinary excretion of coproporphyrins I and III may indicate allele mutations of OATP1B1 and OATP1B3 transporters resulting in Rotor syndrome. 6 Elevated serum creatinine levels or renal creatinine excretion has historically been a biomarker for impaired kidney function. 8 Creatinine is an endogenous waste product of muscle metabolism and normally excreted from the kidneys by up to seven transporters in human.2 Creatinine transport by mouse Oat3 have been reported*.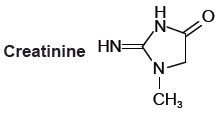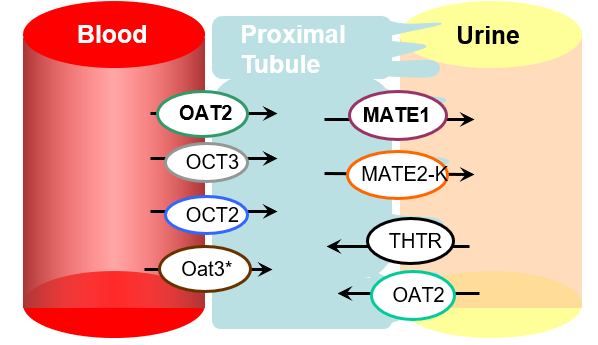 Changes to serum creatinine may demonstrate potential kidney impairment or DDIs. More recently, some drugs have demonstrated decreases in creatinine levels without affecting glomerular filtration rates.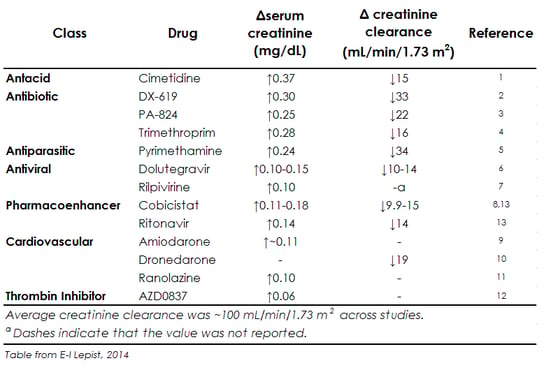 However, some drugs have caused increase serum creatinine levels like these: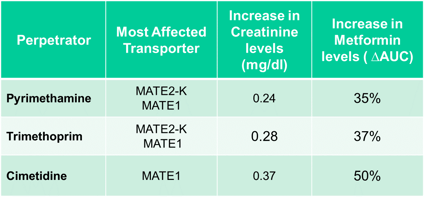 Recent clinical studies with a Janus Kinase inhibitor (Jak I) demonstrated reversable elevated serum creatine levels after dosing healthy volunteers with INCB039110.1 However, iohexol plasma clearance studies indicated no changes in glomerular filtration rate in these volunteers after dosing with placebo or INCB039110. These results indicated no impairment to renal function were observed; however, mechanistic studies were warranted to evaluate potential contribution of transporters that may affect serum creatinine levels.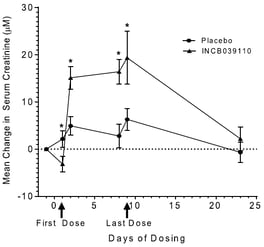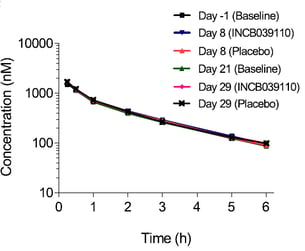 Because many transporters have been demonstrated to transport creatinine9, the investigators partnered with Optivia Biotechnology (now BioIVT), single and quintuple transporter models to evaluate single and net effects of creatinine transport that may be impacted by INCB039110. Results from these studies indicated that transporter inhibition of the single transfected cell lines are skewed compared to the overall net uptake and efflux effects in the quintuple model by INCB039110. The investigators concluded that despite their molecule causing small increases in serum creatinine levels, INCB039110 did not impair kidney function as this traditional biomarker has been used as an indicator. They also concluded that an integrated quintuple transporter model captured the net pharmacokinetic interactions providing mechanistic insight to their molecule.

Although BioIVT's OPTI-EXPRESSION™ technology offers a rapid transporter expression system with the capability of transfecting up to eight different transporters per cell (unpublished data) to evaluate traditional ADME and unique transporters, the full transporter sciences capabilities have yet to be explored. The explosion of new therapeutic modalities leaves a lot room to explore new transport mechanisms from receptor-mediated endocytosis to biomolecule (antibodies, siRNA, viruses, etc.) transport and trafficking. The regulatory agencies will most likely be interested in the transport mechanisms of these new modalities. It will be no easy task to address these new transport mechanisms. However, research partnerships with new collaborators will allow us use the resources to pursue some of these exciting projects and to pioneer transporter sciences.
References