High quality human biospecimens and their associated clinical data lay the groundwork for drug discovery and diagnostic research, and they establish and validate specific targets and biomarkers. Unfortunately, it's not easy to access these samples, especially when ensuring the proper ethical approvals were secured, the right clinical data was recorded, and the proper annotations have been determined. Working with a commercial biobank to build your inventory of desired cohorts is the best way to guarantee all your bases are covered, and that you have a reliable source of specimens and data to return to as your research develops.
As our ability to understand the genomic factors that impact cancer progression has grown, we now know that studying only the tumor provides part of the picture but misses important contributors. Case in point: the NCI recently reviewed the analysis of "normal" tissue adjacent to the tumor as compared to the tumor tissue itself. Researchers from UCSF demonstrated that this normal adjacent tissue (NAT) "presents a unique intermediate state between healthy and tumor,"1 with shared but altered pathways across NAT from different tumor types. Similar molecular changes were observed in cells isolated from normal adjacent tissue and tumor tissues.2
Additionally, as the sensitivity of molecular assays increases, so does the ability to develop less invasive diagnostic measures that are applicable to a wider population base and allow for continuous disease monitoring. These biomarker diagnostic assays include the use of blood, urine, saliva and other easily collected biologicals and are called "Liquid Biopsies." As reviewed by Marrugo-Ramirez and colleagues, circulating tumor cells (CTCs), circulating tumor DNA (ctDNA) and exosomes are the most studied non-invasive biomarkers, and "play a key role in the understanding of metastasis and tumorigenesis."3
Commercial biobanks, such as BioIVT's ASTERAND® Human Tissue Repository, are specifically designed to meet the rigorous standards required by pharmaceutical, biotech, diagnostic, government and academic researchers. These biobanks can also procure complete cases from desired donor cohorts that represent not only the diseased tumor tissue, but normal adjacent tissue and biofluids as well. When looking for commercial biobanks to partner with, you should ask about and understand their policies for quality, regulatory and data acquisition. For more information, make sure to read our Questions to Ask your Human Biospecimen Provider.
A core strength of BioIVT's ASTERAND Human Tissue Repository is the number and quality of human tumor tissues available to support oncology research. Of particular relevance is our unique Quad Set biospecimen collection protocol, which has been designed to maximize scientific value for cancer researchers.
Quad Set biospecimen collections consist of a tumor and a normal sample, each sliced into two mirrored pieces, one of which is preserved in liquid nitrogen or isopentane and the other is fixed in formalin and is available as an FFPE sample. Serum and plasma samples from the same clinical case are also available. Quad Set biospecimens are accompanied with extensive clinical data, making them ideal for biomarker validation studies.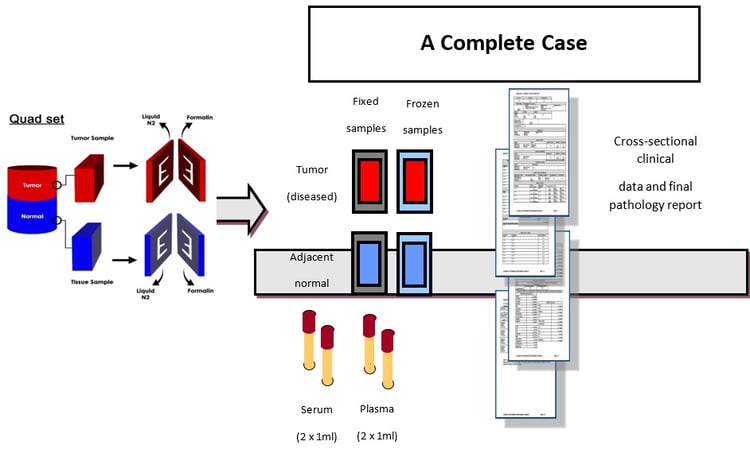 BioIVT's ASTERAND Human Biospecimens are obtained using stringent standard operating procedures and ethical protocols to provide assurance to the researcher that the material will meet their scientific needs. Our renowned quality assurance procedures provide rigorous controls on characterization of samples and their corresponding clinical data. As part of this process, we independently confirm pathology with board-certified pathologists and assess RNA integrity of all frozen samples. This data is provided to researchers so they can select samples that will best meet their specific scientific requirements. And because of the high quantity of material provided, scientists can conduct multiple experiments using a single specimen.

References
Aran, D., Camarda, R., Odegaard, J. et al.Comprehensive analysis of normal adjacent to tumor transcriptomes. Nat Commun 8, 1077 (2017) doi:10.1038/s41467-017-01027-z
Study Uses Open Data to Analyze "Normal" Tissue Near Tumors was originally published by the National Cancer Institute.