Accessing clinically relevant human samples can be a struggle for oncology researchers. The procurement of human biospecimens is strictly regulated in most clinical settings, thus preventing researchers from obtaining specific samples of interest. BioIVT's expansive network of over 200 IRB approved collection sites facilitates the collection of a wide range of tissue and tumor types that our clients can access.
BioIVT has recently launched our Dissociated Tumor Cells (DTCs) product line. BioIVT's access to a wide variety of oncology samples, along with the extensive QC and characterization that these cells undergo, make them an invaluable model for cancer research.
Because DTCs are viable human tumor cells, they can be used for a variety of applications. For drug discovery researchers, our DTCs provide a more appropriate model of therapeutic efficacy, allowing for more efficient candidate compound screening. DTCs are useful for drug response and target discovery studies, and can be used in microarray assays and 3D culture models. They may also be used for novel biomarker identification. DTCs may contain Tumor Infiltrating Lymphocytes (TILs), which are of particular interest to researchers, as they are implicated in killing tumor cells and their presence has been associated with better clinical outcomes. DTCs are valuable to personalized medicine researchers for use in modelling, screening, and modification experiments. They can be used for immune response and activation monitoring, and are particularly appropriate for establishing Patient Derived Xenograft (PDX) models.
For the isolation of DTCs, fresh tumor samples are shipped directly to our ISO 9001 certified laboratory, where they are processed into single cell suspensions via mechanical and enzymatic digestion. These dissociated cells are then immediately cryopreserved, providing our clients with primary cells that are as similar as possible to the original source tissue.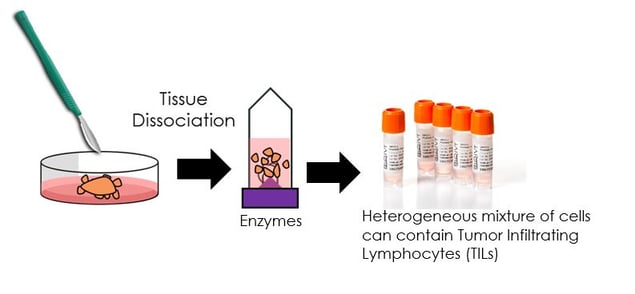 All collections follow regulatory guidelines appropriate for the country of collection, as well as the US, EU, and UK guidelines. In addition, an extensive donor history and current clinical information is provided with each sample. This dataset may include medical history of the donor as well as immediate family if relevant to the diagnosis itself, as well as medication and treatment histories, clinical test scores, and other important information. Each purchased lot of DTCs is provided with a data CD or online access to files detailing this information.
Because the DTCs are created from whole tumor tissue, they contain a mixture of all the different cell types present in the tumor itself. As we know that no two tumors are the same, each lot of DTCs will be a unique heterogeneous mixture. Our DTC products may contain TILs as part of the heterogeneous cell mixture, thus part of our QC process is to stain DTCs from each lot with a panel of leukocyte marker antibodies to check for the presence of TILs and certain leukocyte subpopulations. Specifically, we provide data for each lot of DTCs (representing a unique tumor from an individual) for the following leukocyte markers: CD45, CD3, CD4, CD8, CD56, CD16, CD15, CD14, CD11b, and CD19
In addition to the cellular makeup of the DTCs, our QC process also includes a post-thaw growth assessment to determine how well each lot grows in culture in a basic culture media (DMEM+10% FBS). Because of the extremely variable cell composition of each lot, we see wide differences in morphology and growth capabilities on a lot to lot basis. Some lots take on a clearly fibroblastic or epithelial cell type, while others have a more mixed morphology, and still others just do not grow very well.
For example, our Renal Carcinoma donors often show an epithelial-like, or a mixed fibroblast/epithelial morphology in culture, whereas our Lung Carcinoma donors have shown a more fibroblast-like morphology in culture.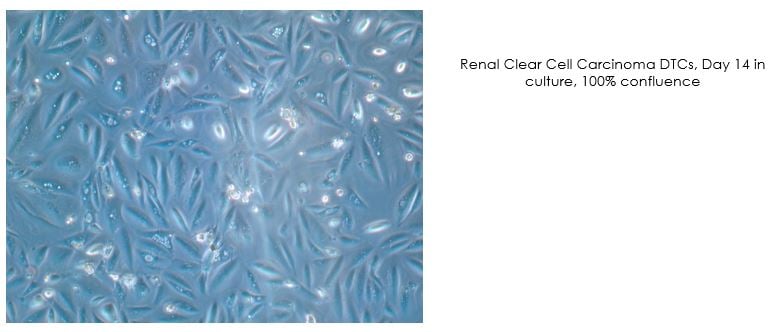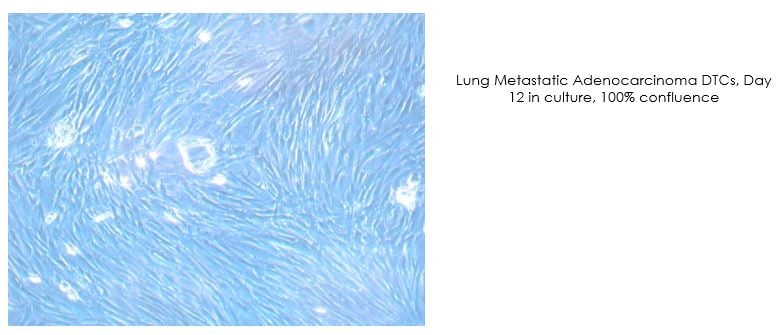 Additional QC checks include the creation of an FFPE tissue block from the original tumor. This tissue block is used by our Board Certified Clinical Pathologists to review and confirm the samples tissue type and diagnosis. Finally, each lot of DTCs undergoes IDEXX testing to confirm that is sterile, as well as free of mycoplasma and human pathogens. IDEXX testing also confirms that each lot is a unique donor by running a 9-marker STR profile for comparison against known cell line profiles.
BioIVT DTCs are well-characterized, thoroughly QCed, and come with detailed clinical data, making them an exciting new oncology research tool.
Click here to learn more about BioIVT's DTC products.