Researchers are working hard to study the novel coronavirus (known as 2019-nCoV or SARS-CoV-2, which causes COVID-19), and BioIVT remains committed to our mission of ELEVATING SCIENCE® in the race to find a cure. Here, we have collected information about coronavirus testing and our offerings that we hope will enable the next medical breakthrough.
Who Should Be Tested
The CDC advises that clinicians use their best judgment in terms of who should be tested for coronavirus. They also suggest prioritizing testing for the following groups:
Hospital patients who have a fever and/or symptoms of acute respiratory illness, such as coughing or difficulty breathing
Older adults, people with chronic medical conditions or those in an immunocompromised state who are showing symptoms
Healthcare personnel who, within 14 days of symptom onset, were in contact with a COVID-19 patient or who traveled from affected regions 1
Collecting Samples
The CDC recommends collecting and testing upper respiratory nasopharyngeal swabs (NP).
Oropharyngeal swabs (OP) are a lower priority; if they are collected, they should be combined in the same tube as the NP. Induction of sputum is not recommended; sputum collection should only be done for patients with productive coughs. Those samples should be tested for SARS-CoV-2. For patients receiving invasive mechanical ventilation, a lower respiratory tract aspirate or bronchoalveolar lavage sample should be collected and tested. All specimens should be collected as soon as possible while maintaining proper infection control. Specimens should be stored at 2-8°C and shipped overnight to the CDC on ice packs. 2
Examples of approved collection devices include:


Working with Positive (or Potentially Positive) Samples
Laboratory staff who handle specimens from patients with suspected or confirmed COVID-19 must protect themselves from exposure. As much work as possible should be done in a properly maintained and certified biosafety cabinet (BSC). Remove an outer pair of gloves before exiting the BSC, and don a new pair when reentering the BSC. Appropriate physical containment devices, such as sealed centrifuge rotors or safety carriers with gaskets, should be used for centrifugation. All laboratory workers working with COVID-19 must wear appropriate personal protective equipment (PPE). That may include disposable nonsterile gloves, laboratory coat/gown and eye protection when handling specimens at a BSL-2 or above facility. The lab coat or solid-front gown should have a knit or grip cuff. Use double gloves that extend over the sleeve of the lab coat or gown. At a BSL-3 facility or when conducting procedures that may generate aerosols, workers should use a NIOSH-certified N95 (or higher) respirator as part of a comprehensive respiratory protection program.3 Lab workers and clinicians should always follow internal guidance from their biological safety committee and health agencies. For additional reference, please refer to the World Health Organization guidance (WHO), UK Public health England Guidance, and the European Centre for Disease Prevention and Control Laboratory Support.
The Search for a Cure
Your research into 2019-nCoV is critically important, and BioIVT wants to be your best-in-class partner. Our wide-ranging capabilities include a variety of representative cohorts and specimen types that include nasal and nasopharyngeal swabs, fecal and urine collections and blood-derived biofluids from every donor age range and with associated data. The source plasma we collect at our donor centers may be of special importance in coronavirus therapy research and development.
Pharma and biotech companies around the globe are investigating many drugs and therapy options to treat COVID-19.4 Additionally, researchers are currently investigating whether people develop immunity to the coronavirus after initial infection. A recent study showed that three rhesus macaques did not develop a second infection after recovering from a first exposure and subsequently being reexposed to SARS-CoV-2. The study suggests that antibody-containing plasma from recovered patients could be used as a treatment to patients with severe cases. 5
At BioIVT, we see potential for human convalescent serum to serve as both a both a short-term and long-term treatment and prevention option. 6 Virus-neutralizing antibodies would be particularly beneficial when administered as a prophylactic for high risk populations. In addition, there is hope that this serum could be used to reduce symptoms and mortality. Time will tell whether these hypotheses hold true. As researchers investigate the mechanisms of immunity, BioIVT is well-positioned to support the biotech, pharma and diagnostic communities in supplying plasma and cells to scientists for drug development. Our global donor centers are diligently working to collect specimens to accelerate these studies. Subscribe to our communications to hear the latest news from BioIVT as we prepare to support this critical research need.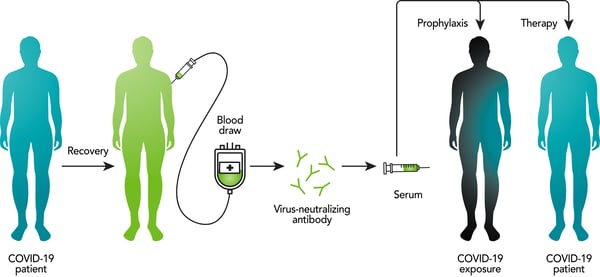 As always, our technical staff are available to assist you in the selection and use of biospecimens for your 2019-nCoV studies. Additionally, we welcome opportunities to initiate joint discussions regarding your coronavirus research. Contact us if you are interested in learning more about our product offerings.
References
Centers for Disease Control and Prevention. Evaluating and Testing Persons for Coronavirus Disease 2019 (COVID-19). https://www.cdc.gov/coronavirus/2019-ncov/hcp/clinical-criteria.html
Centers for Disease Control and Prevention. Interim Guidelines for Collecting, Handling, and Testing Clinical Specimens from Persons for Coronavirus Disease 2019 (COVID-19). https://www.cdc.gov/coronavirus/2019-ncov/lab/guidelines-clinical-specimens.html
Occupational Safety and Health Administration. Safety and Health Topics / COVID-19 / Control and Prevention. https://www.osha.gov/SLTC/covid-19/controlprevention.html
Ben Adams. Fierce Biotech. March 20, 2020. Biopharma's leading treatment hopes against COVID-19. https://www.fiercebiotech.com/biotech/biopharma-s-leading-treatment-hopes-against-covid-19
Katarina Zimmer. The Scientist. March 17, 2020. Monkeys Develop Protective Antibodies to SARS-CoV-2. https://www.the-scientist.com/news-opinion/monkeys-develop-protective-antibodies-to-sars-cov-2-67281
Arturo Casadevall and Liise-anne Pirofski. Journal of Clinical Investigation March 13, 2020. The convalescent sera option for containing COVID-19. https://www.jci.org/articles/view/138003